Description
Do you suffer from IBS? Intestinal Bowel Support is designed to help people who suffer from Irritable Bowel Syndrome by soothing and reducing inflammation in the intestinal tract, re-building the intestinal tract lining, and reducing cramping and spasms.
Intestinal Bowel Support consists of herbs and amino acids that help to heal and support the intestinal tract lining. It also includes a mixture of herbal ingredients that help to relieve cramping, spasms, and irritation of the intestinal tract and colon.
It can be used by anyone who wishes to improve their intestinal health but it is especially helpful for those who suffer from I.B.S.
Features:
Soothes and reduces inflammation in the intestinal tract
Reduces cramping and spasms
Dairy free
No GMOs
Vegan, Gluten Free and Soy Free
Directions for Use: Take 2 capsules in the morning on an empty stomach (30 minutes before eating) and 2 capsules in the evening on an empty stomach (3 hours after eating).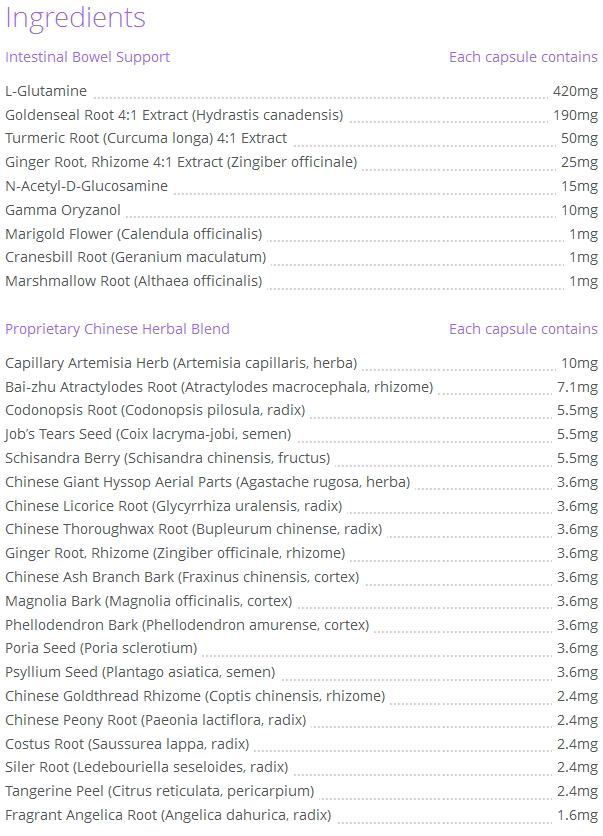 Other Ingredients: Vegetable Capsules, Vegetable Cellulose
Excipients: None
Intestinal Bowel Support contains no dairy, wheat, gluten, soy, corn, yeast, additives or preservatives. Renew Life does not use genetically modified ingredients. All ingredients are NON-GMO.

Warnings: Discontinue use if abdominal pain, nausea or vomiting occurs unless otherwise directed by a physician. Consult a health care practitioner if you have a history of gallstones, biliary tract obstruction, kidney disease, or are following a low protein diet. Consult your physician prior to use if you have a serious medical condition, high blood pressure or are taking blood thinning medications, sedative drugs or barbiturates. Do not use if pregnant, breastfeeding or are sensitive to the Asteraceae/Compositae family of plants (i.e. Marigold). Do not use prior to, or after recent surgery. Do not exceed recommended dose. Keep out of reach of children.